We needed to find a new kennel for Jasper for when we go to Detroit at the end of this month. The one we use here in Park City is way booked. We got a recomendation for one down in Salt Lake called DogMode. Their concept is that the dogs each have a kennel for sleeping in, but during the day they all hang out in a big central area.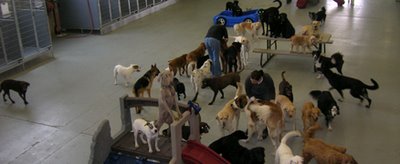 This picture (from their web site) doesn't begin to tell the story. We took Jasper by for an "interview" today to make sure he would play well with the other dogs. He did fine and we left him for a day of daycare while we gave blood, hit Costco, etc. When we went to pick him up, there were about sixty dogs all playing around in the big open area. They ranged from little midget dogs to a Great Dane and a Newfoundland. There is an outside area they can hang out in, as well as things like a kids sliding board and picnic tables.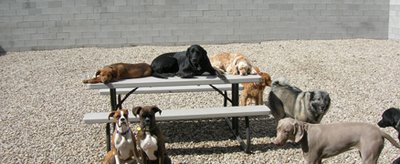 Watching the total chaos of sixty dogs romping in numerous random, flowing packs was hilarious. Jasper had a great time and is now home and napping.
Next time I will have to bring my camera.